Return to site
Zillow, the Spoiled Brat of Real Estate
And they have billions to spend
First, Zillow is dominating markets in Phoenix, Atlanta, and Tucson. Hardly national, and not in my neighborhood. In spite, Zillow has always been a thorn in the side of the solo Realtor® trying to slog away among more wealthy competitors, eking out a living, selling homes one at a time for their clients, home sellers and home buyers. Not easy making a living as a Realtor® if you're not part of a California home-selling team. The standard million dollar answer to a Realtor®'s dilemma is buy Zillow leads, become a Premier Agent on Zillow!
It used to be not that long ago, if I put up my listings on Zillow, any inquiries would go directly to me. After Zillow introduced the Premier Agent, any and all inquiries were commandeered to those paying brokers and agents who were advertised as Premier Agents on Zillow. Apparently, it's wrong to think a Realtor® has been jilted, their hard work stolen from them by other agents picking off prospective home buyers without a chance to build more business on business they acquired by their marketing efforts. So the solo Realtor® is cast aside, kicked to the curb, and brow-beaten by industry experts to remain silent over the injustice.
For the record, I've never paid Zillow to be a Premier Agent. Paying to steal prospects from my competitors is beneath me. I'll not be that scab. I walk my talk, and have removed all SOLD properties under my Zillow profile, which was created for me without my consent by an employing broker, who shall remain nameless. I regret I was persuaded by said broker that to use my Zillow profile is good. Zillow, it turns out, has been a parasite on my real estate business. Today, my profile picture has been exchanged for a picture of a cup of coffee, because I like coffee.
I admit I have bowed obsequiously at the altar of technology, and because I have, I will be one to say, it's limited. Greatly limited. So limited a Realtor® begins to think they might be going crazy. How can technology be so, so, stupid? From my experience, the technology involved in real estate is backwards. I can't stress enough: it is nothing like they want you to believe it is. They have funny things like copyright laws, so that California Association of Realtors® forms cannot be accessed on dotloop. Because of COVID, electronic notaries are the new shiny, thing. I'm just waiting for the lawsuits. How can a right-thumb print, a California law requirement for a deed transfer, be electronically transferred? I'm beyond mystified. It's not my age either. I'm more tech savvy than most. Technology that is sold to Realtors® is a dream, and the reality is that dream is a nightmare. I'd be willing to bet Zillow agrees with me.
The NAR was sued for anti-trust and lost
Bottom line is that lawsuit, and the National Association of Realtors®' loss in that lawsuit, is why we have Zillow. Zillow just wanted to share on their website homes for sale, and, of course, data, lots of it, and information. They were seen by the Department of Justice as a public good, a key player, a check-in-balance the real estate market place needs for it to be fair and transparent to consumers. Much to the chagrin of the trade organization, who has been cowering ever since, Zillow has played an important role in revealing what has been shrouded behind the curtain traditionally kept in place by real estate brokers. They own their listings, and by gum, no one else, especially an outsider, is going to get that information, or touch their commission. Fifteen years ago, it was a war on data and information. Today it's a war for business.
Meanwhile, Zillow for years has been saying, "If you're not the very best, we don't want your money." They've taken actions like Best of Zillow to show that they're serious. Most of the agents saying the above wouldn't be allowed to buy Zillow leads today. The game has changed a long time ago, under Spencer Rascoff.​ ~ Rob Hahn
To qualify as the very best by Zillow's standards, you have to be paying upwards $30,000 month on Zillow. That's reserved for brokers, with a large staff of Realtors® in tow. Real estate teams with half a dozen or less Realtors® cannot afford that amount of money. And solo Realtors® (like me) have been slaughtered like sheep long ago, as Hahn so poignantly points out. Zillow wants only the uber wealthy. It's a moot point at this juncture that I'm not interested in having my listings scraped off like the cream on top, like cheese crust on artichoke dip.
Jay Thompson, a decade-long, Zillow employee, in a comment harps on the apparent, obvious inequity of Arizona state's department of real estate treatment of Zillow. The double-edged sword of forcing Zillow to comply with laws makes for a very, good, bad boy. In case you didn't get the memo, Zillow is coming for you, Realtors®.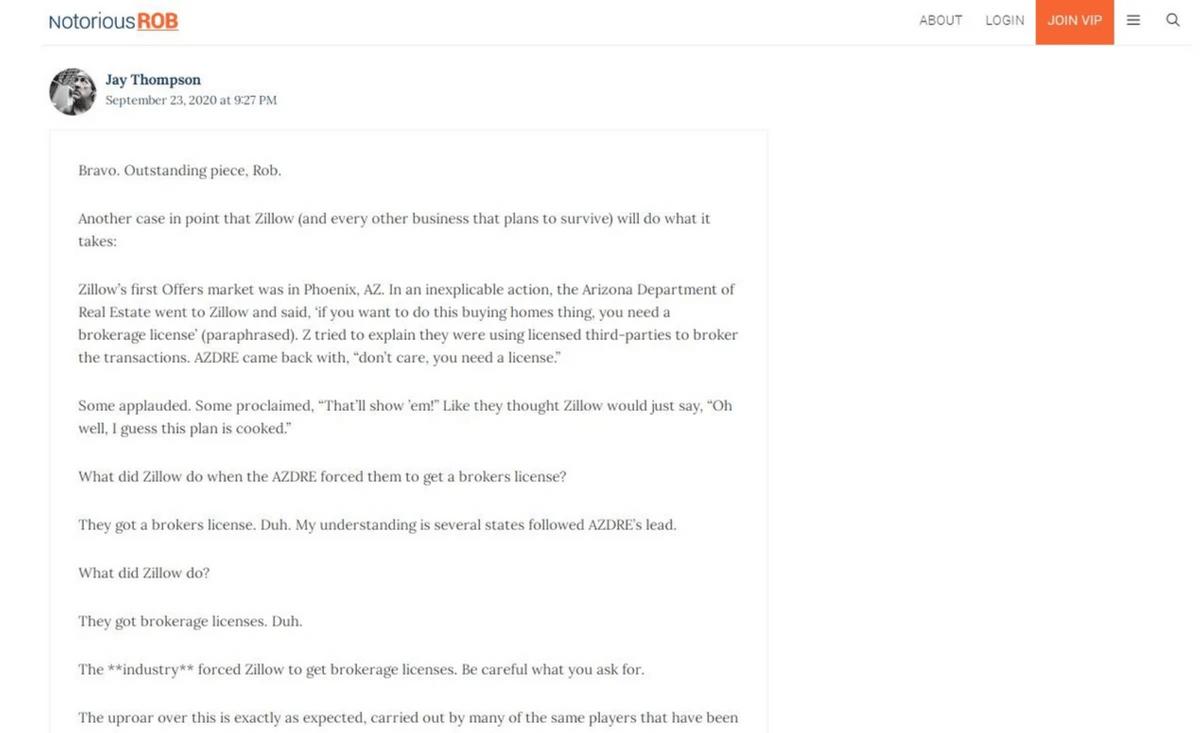 I don't think it gets more adversarial, more in your face, "Zillow wins, you lose," than this. These are our industry experts. It was a slow, take-over by Zillow of the traditional brokerage model. Many of us saw it coming, and couldn't stop it.
If you would like a real estate consultation in the Inland Empire California, please feel free to contact me.